Solaz Residences Penthouse 306 is an exclusive, one-of-a-kind listing. There's no other comparable Los Cabos real estate property in our market today.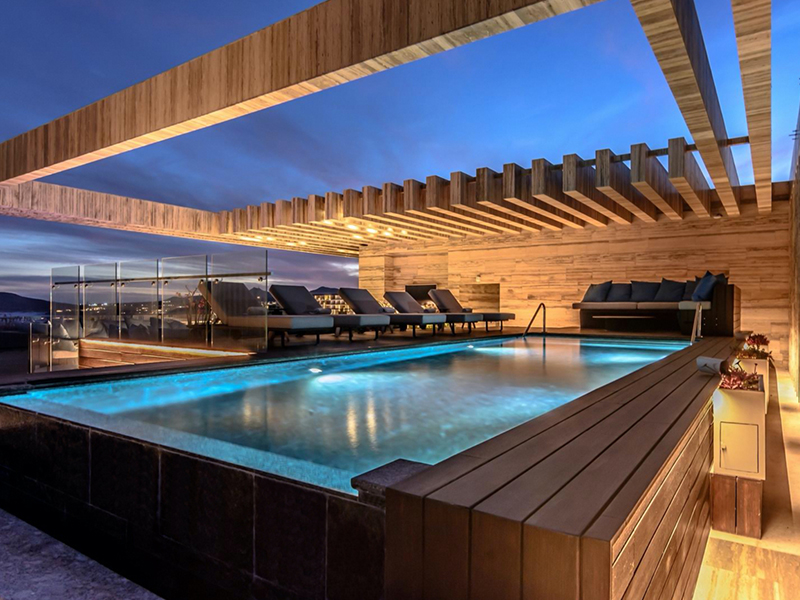 Ocean-Front Los Cabos Penthouse
This Solaz oceanfront masterpiece comes to market priced at $4.395 Mill USD. With other comparable oceanfront penthouses all asking over $5mm USD, Solaz Penthouse 306 is an incredible opportunity that's waiting for the right buyer.
Solaz Penthouse 306 offers 8,000 square feet of living space with two wrap-around terraces, in addition to an entire upper floor that features a private rooftop with an infinity pool, hot tub, barbecue, and outdoor kitchen lounge.
Home Ownership With Resort Living
The HOA's for this Solaz Residence beachfront condo include daily hotel maid service. Your only additional onsite expense is electricity consumption, drinking, or dining in any of the Solaz restaurants, and any in-house spa services. Usage of all Solaz Resort amenities is included in ownership, with owners and guests of owners eligible to enjoy the resort pools, extensive fitness suite, and spa wet rooms.
Besides the multiple onsite resort swimming pools, there are a plethora of dining experiences to sample. Six onsite restaurants including an Italian, a beach grill, authentic Japanese sushi, a Steak house, and an Argentinian grill. Solaz is one of those places where there's really no need to step a foot outside of the property. There's too much to enjoy within the development itself.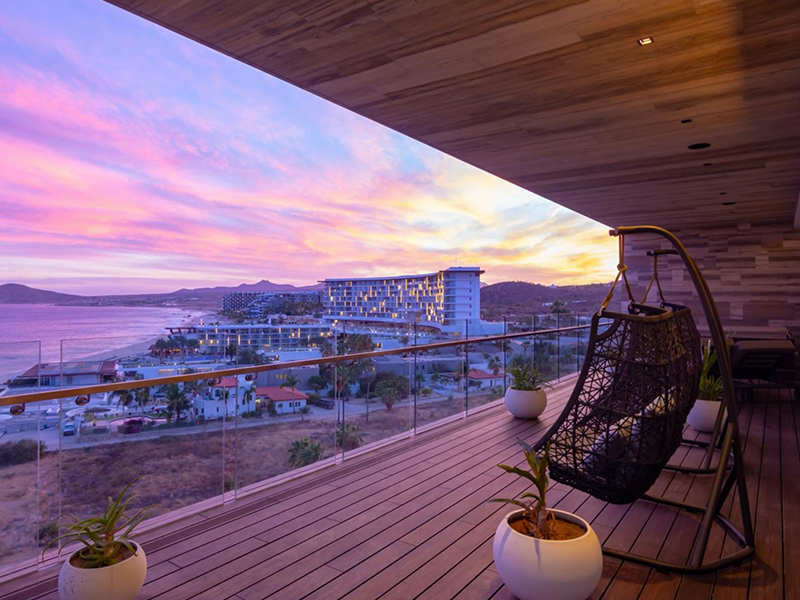 Instant ROI
Did I mention that this penthouse comes with immediate revenue potential? With a current approximate 8% Cap on rental revenue, this is a no-brainer acquisition if it's your intention to buy this as an income-producing asset. Whether renting with
the unit with help of the Resort, or using a digital medium such as Airbnb combined with a local property management service, this Penthouse lends itself as a dream wedding and event venue.
Solaz Penthouse 306 is located on Level 6 and 7 – in other words – you're the King or Queen of the Castle. The unit comes with two underground parking spaces, plus valet parking at the front. The staff can even charge an electric vehicle for
you and bring it to the lobby, upon request.
Future Developments At Solaz
The Solaz development is evolving at a fast pace. Across the highway, expect to enjoy an eventual tennis facility, man-made lakes, and a full commercial center featuring a boutique hotel with overwater bungalows. A luxury shopping experience is slated to be showcased within a planned commercial space in addition to more restaurants, an equestrian center, and a tequila plantation and distillery.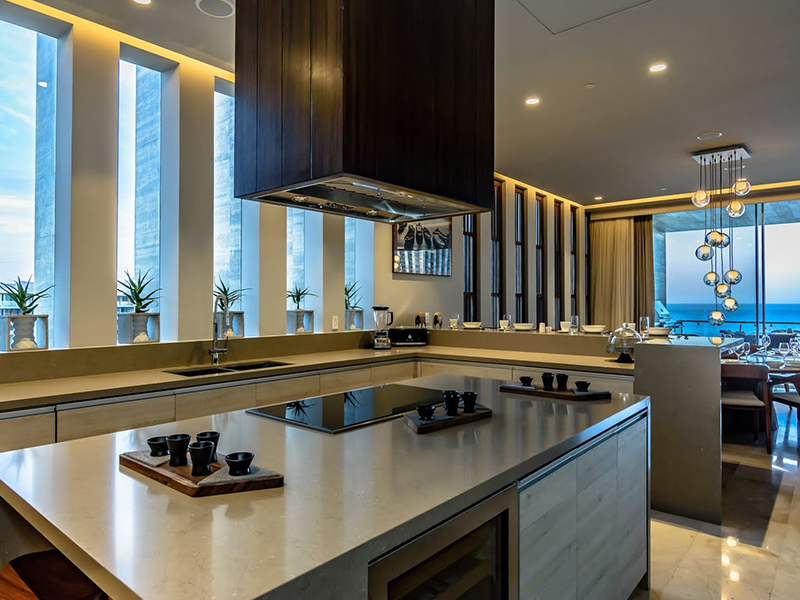 Exclusive Cabo Home Ownership With Resort Access
When we consider the way that the Solaz developers engineered the Residences, each condo encompasses an entire floor. When there's no neighbor beside you, and only five other inhabitants beneath, the condo lives like a single-family
home; its own delightfully private residence. That's where we're getting the crossover between people that love the idea of a house, but also love the idea of the resort amenities that they can use at free will.
Owners of Solaz Residences enjoy immediate Preferred Marriott Status Memberships. They get discounts at any Marriott properties around the world, whether it's St Regis, The Luxury Collection, or a big-city Marriott hotel. There's also the ability to exchange your Solaz Residence using a premium vacation experiential platform such as The Registry Collection and Third Home.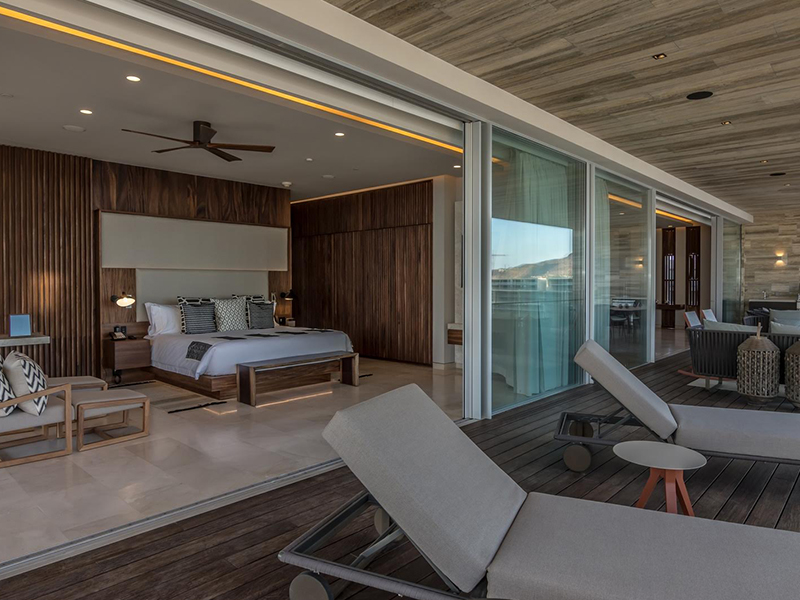 Are You My Buyer?
Given the impressive amenities and the elegant esthetic of the Solaz development, the ideal buyer for Solaz Residences Penthouse 306 might be a couple with teenage kids or young adult children that are going off to college. This family still wants to vacation together, but in a home away from home. And preferably one that maintains a high-end beach-front resort vibe. This family is looking for their dream retirement vacation home; a place that their eventual extended family can reunite.
Perhaps this remaining Penthouse will be snapped up by a social butterfly. An individual who wants his or her own private amenities atop a private tower overlooking the ocean and resort. The acquisition of this incredible 2-story condo is the perfect purchase for a person aspiring to own something completely unique. This penthouse has a personality decked out with privilege like no other.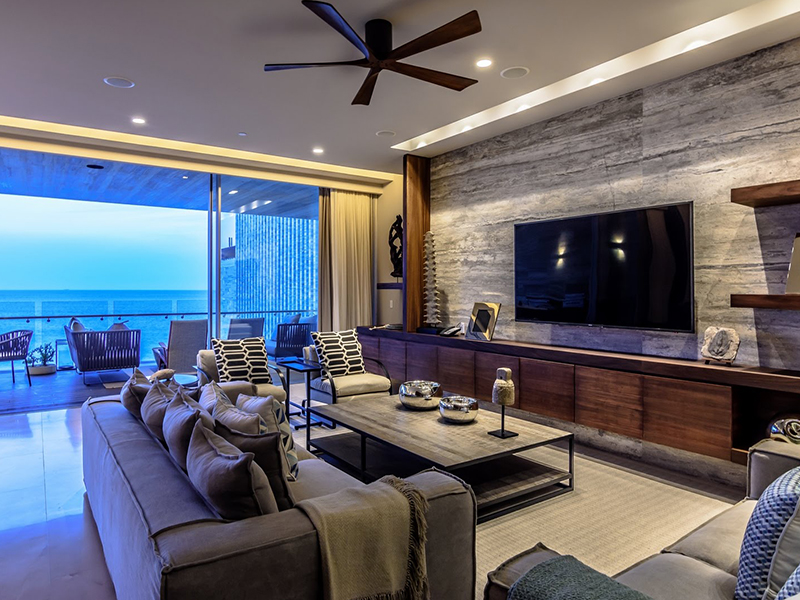 The icing on the cake for this incredible Cabo Penthouse is that it comes fully furnished – move-in ready. Hats off to the award-winning Design & Engineering team for their efforts on this impeccable project. It's the ultimate manifestation of impeccable Mexican Modern architecture and it's ready to be enjoyed by the right buyer.
Interested in a private showing of Solaz Penthouse 306? Contact Ian Gengos today to schedule a virtual or in-person meeting. Browse more of Ian's Featured Property Listings here.