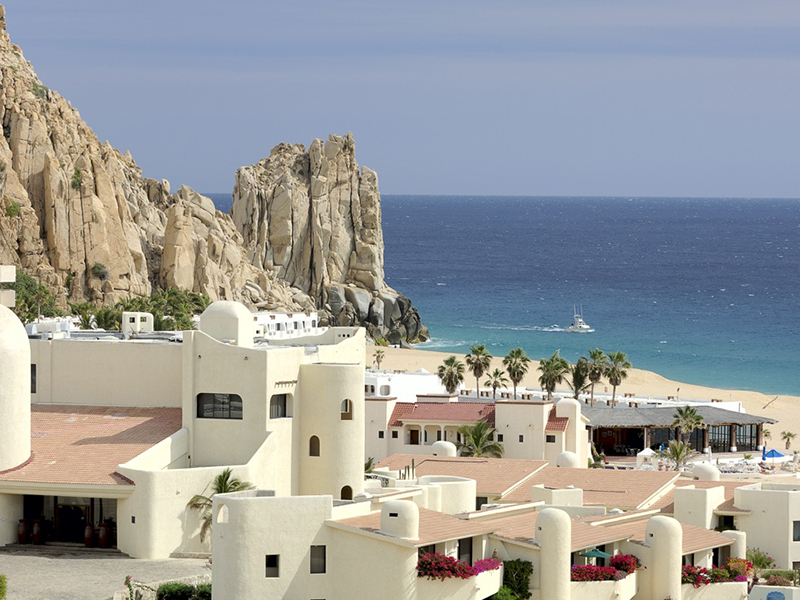 Located in Baja California Sur, Mexico, Los Cabos is a world-famous destination that boasts of incredible weather, exciting outdoor activities, and the finest beaches.
Here are 20 fun facts about one of the premier vacation destinations in the world:
Los Cabos refers to two towns Los Cabos is a region that comprises two towns: San Jose del Cabo and Cabo San Lucas. Both towns are connected by The Golden Corridor, a 20-mile stretch of land that offers incredible views of the coastlines of the Pacific Ocean and the Sea of Cortez.
Los Cabos enjoys a mild, Mediterranean climate  Los Cabos is known for its sunny and warm weather all year round. In fact, the region experiences around 350 to 360 days of sunshine a year.
Los Cabos has around 7 inches of rain per year  Despite its rainy season from the months of July to September, Los Cabos only receives around 7 to 10 inches of rain annually. The cool ocean breeze and low humidity are a plus.
Los Cabos is close to the US West CoastOne of the reasons Los Cabos is such a popular destination is its proximity to the United States West Coast and its other Southern states. From California, the plane ride takes from two to four hours.
Los Cabos is known as the "End of the Earth"  Los Cabos is also called the "End of the Earth" due to its location on the tip of the Baja California Sur Peninsula.
The Sea of the Cortez is the world's youngest sea  Aside from being one of the most biologically diverse bodies of water, the 700-mile-long Sea of Cortez, which borders Los Cabos, is also the world's youngest, having been formed 5.6 million years ago.
Los Cabos has a rich history  Thousands of years ago, Los Cabos was first inhabited by three tribal groups: the Pericues, the Guaycuras, and the Cochimies. After the conquistadors arrived in the 15th century, many other groups came to the region as well, including missionaries and pirates.
Pirates lived in Los Cabos The English and Dutch privateers are the earliest known pirates who stayed in Los Cabos. The coves and caves around the Cabo coast were used by these pirates as a cover.
Los Cabos was named by a Spanish explorer  As Spanish explorer Sebastian Vizcaino sailed around the world, he landed on the coast of Cabo San Lucas when his expedition was forced to abandon their ship. He is said to have named the cape "Cabo."
Marlin put Los Cabos on the map Before it became the world-famous destination that it is today, Los Cabos was once a quiet and secluded area. Cabo San Lucas, in particular, was still a sleepy fishing village. After the area was discovered for its marlin fishing, word got around about its pristine beaches and the rest is history.
The first hotel in Los Cabos opened in 1957 Hotel Las Cruces Palmilla was developed by Rod Rodriguez, a businessman and son of former Mexico President Abelardo L. Rodriguez. It opened in 1957 and became an exclusive hideaway with a golf course, tennis courts, and swimming pools.
Commercial flights were introduced in 1975 As Los Cabos started becoming a popular tourist and vacation destination, the Mexican government began investing in its infrastructure. Commercial flights to the area began in 1975 to make it easier for vacationers to get to their destination.
Los Cabos offers endless indoor and outdoor activities  There's always something to do in Los Cabos, whether it's fishing for marlin, playing a round of golf in a championship golf course, or diving and mingling with tropical fish. Surfing and swimming are a must as well.
Sportfishing is popular in Los Cabos Aside from golf, sportfishing is another Los Cabos point of interest. The region has a variety of excellent sportfishing charters that will bring you to all the best fishing spots. Reel in dorado, tuna, and marlin, among others.
The world's highest paying marlin tournament is held in Los Cabos  The Bisbee's Black & Blue Marlin Tournament is an exclusive fishing tournament that offers up to $4,000,000 in cash prizes.
Los Cabos is the "Marlin Capital of the World"  As one of the most popular fishing destinations, Los Cabos is considered the "Marlin Capital of the World." The region's nutrient-rich waters attract one of the world's biggest marine animals, valued both for their meat and their ability to put up a tremendous fight when hooked, which makes marlin even more of a prized catch.
Los Cabos boasts of incredible golf courses  There's no better place to play golf than in Los Cabos. The golf courses in this world-famous destination seamlessly blend the majestic ocean setting with the area's subtropical desert landscape. Some of these courses were designed by legendary names in golf including Jack Nicklaus and Tiger Woods.
The Arch of Cabo San Lucas is a world-famous landmark The Arch of Cabo San Lucas is a unique, natural rock formation located close to the southern end of Cabo San Lucas. This granite monument is said to be around 13 to 15 million years old.
Los Cabos is home to a 1,200-feet underwater sand waterfall  Another amazing attraction in Los Cabos is the underwater sand waterfall. Made famous by French oceanographer Jacques Cousteau in the 1970s, this 1,200-feet canyon is a popular dive spot for experienced and advanced divers.
Not all beaches are fit for swimming  Los Cabos has the most stunning beaches in the world but not all of them are fit for swimming. Some beaches have fierce riptides and rogue waves, making it very dangerous for even the strongest swimmers. That's why it's important to only use the beaches designated for swimming.
Known for being one of the top destinations in the world, Los Cabos boasts of pristine beaches, incredible weather, and a laid-back lifestyle. Are you thinking of buying or investing in Los Cabos real estate? I'm here to help. Get in touch with me, Ian Gengos, today at +52.624.157.6323. Feel free to send me an email iangengosrealty(at)gmail(dotted)com for any Los Cabos real estate assistance you require.