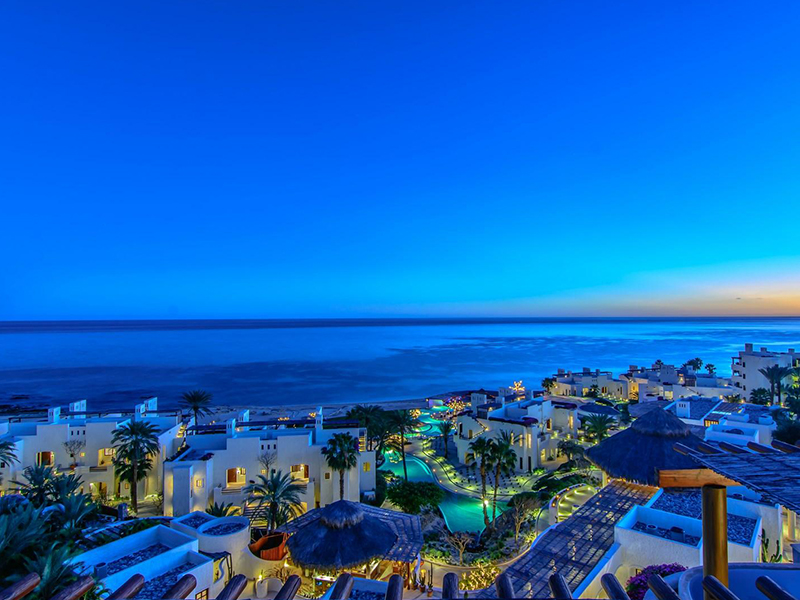 Las Ventanas is one of the many beach communities in Los Cabos. To learn more about the featured property offering this killer view, see details here.
The beauty of Los Cabos – roughly 1,500 square miles of sandy beaches, desert outcrops, and everlasting sunshine along Baja California Sur's southern tip – has turned its fair share of vacationers into permanent transplants.
Excited about the thought of owning a home in this sunny region? With careful planning, living in Los Cabos can be your blissful dream turned reality.
Factor these aspects into your plans for a smooth move.
Communities and atmosphere
Los Cabos refers to the two cities of Cabo San Lucas and San Jose del Cabo as well as the Corridor, a 20-mile stretch of land and highway separating the two cities. The whole area is home to a variety of condominium, luxury, beachfront, and gated communities, each with their own atmosphere.
It's important to find the right community you'll feel at home in, and that means taking a look at what each neighborhood offers.
A longstanding party destination, Cabo San Lucas has the vibrant nightlife and various bars and upscale restaurants to prove it. The city is best described as active. There's always something happening day or night, whether it's at Medano Beach or the downtown area.
San Jose del Cabo, on the other hand, is laid back. Though it boasts a restaurant scene as diverse as the one in Cabo, the city is decidedly more family-oriented and artsy than its neighbor to the southwest.
Quality of living
Many people discovering Los Cabos for the first time have heard or read stories about its beautiful beaches, the iconic "Arch of the End of the World," and its rich marine life. What's not always mentioned is how easy it is to live life at a high standard. Its seemingly perpetual sunshine makes outdoor leisure a given, and despite the desert terrain, it nurtures a thriving farm-to-table scene that allows locals and expats to regularly dine on sustainable produce and fresh seafood.
The cost of living is on par with resort towns in Mexico, and like many of these towns, Los Cabos also has a high expat population. Thanks to its proximity to the United States, Los Cabos has many private clinics that offer healthcare equivalent to what can be found in the US. Families also have access to quality education in bilingual private schools. There are even chains that have migrated over the border to cater to shopping needs (Costco, Home Depot, Walmart, Sam's Club).
Getting around
Most people who come to Los Cabos arrive through Los Cabos International Airport. It services direct flights from a handful of cities on both US coasts plus the Midwest and is about 20 minutes away from San Jose del Cabo. Flights from the West Coast of the United States range from two to three hours.
Both Los Cabos cities have closely laid out downtown areas, making travel on foot to many Los Cabos points of interest easy. Car rentals are available from the airport, but American (and Canadian) citizens enjoy the privilege of being able to travel around Baja California in cars they owned back home, without having to file for an import permit.
Paperwork
Unlike other parts of Mexico, where expats can claim property ownership with an "escritura" (deed), transplants to Los Cabos have to set up a long-term renewable bank trust called a "fideicomiso" to own property. This special mechanism goes back to Los Cabos's location in a restricted zone – it's within 50 kilometers, or about 31 miles, from an ocean. To facilitate buying property and living in Los Cabos, foreign nationals have to file for Mexican residency and all other paperwork in their home country.
Real estate
Los Cabos' most prized asset is its coastline, making beachfront and ocean-facing homes in demand. Luxury condo and single-family home communities dot the coast alongside branded residences, resorts, and world-class golf courses.
Even though property prices have been increasing since the financial crisis, prices in Los Cabos are still very reasonable compared to the astronomical prices of waterfront properties in the United States. Like most properties in Mexico, much of Los Cabos' real estate is sold by Realtors living and working in the area.
Plan your move to Los Cabos with Ian Gengos
If you're yearning to make the move to one of Mexico's most beautiful luxury retirement destinations, take a concrete step toward that goal and get in touch with me, Ian Gengos.
As a Luxury Los Cabos Realtor, I use my over 15 years of working and living in Los Cabos to offer clients the insight, resources, and network they need to make their dream Los Cabos home a reality.
Give me a call at +52.624.157.6323 or send an email to iangengosrealty(at)gmail(dotted)com today to discover your options.