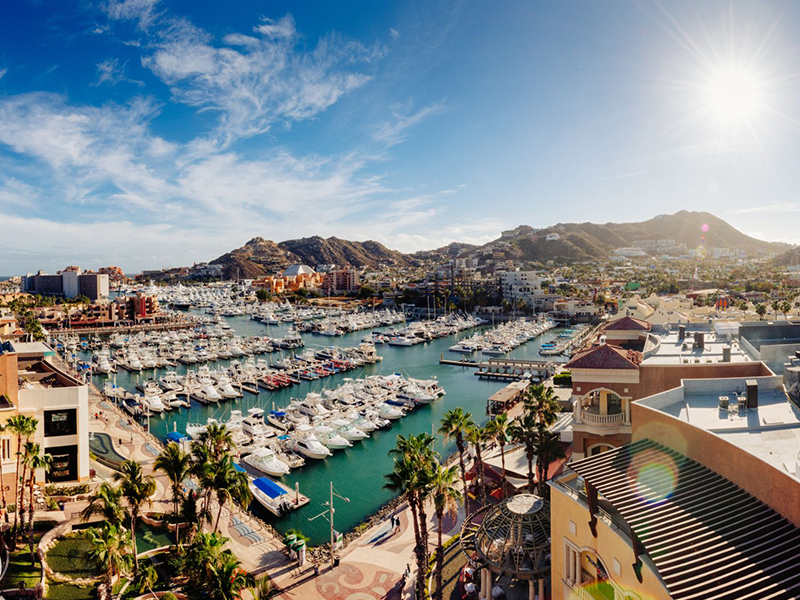 Visit Los Cabos once and it will be enough to convince you: this sunny and vibrant location is the perfect place to buy your next dream home.
With its gorgeous beaches and natural oceanfront features, luxurious resort lifestyle, diverse local attractions, and warm and engaging local culture, Los Cabos will instantly capture your imagination and affection, no matter which part of the world you're from.
If you've set your sights on making either Cabo San Lucas or San Jose del Cabo your next hometown, read on. This guide will show you how to make the most out of your day-to-day living experiences in this exquisite slice of paradise on earth.
Expect plenty of sunshine

When sunny days fill 90% of your calendar every year, you can count on the bright and pleasant vibe to rejuvenate and uplift your spirits. But remember to dress accordingly so you can always stay comfortable despite the unrelenting heat. Plus, it never hurts to look as great as you feel.

The best experiences happen when you leave dry land

Living in Los Cabos means that the vast, sparkling Pacific Ocean is always on the horizon. Answer the call of the open sea and experience unique adventures every time you set out, whether with a cruise tour or on your own private vessel.

Taking to the sea introduces you to more than just sight-seeing and island-hopping around the Baja California Peninsula. You can also witness or even experience Los Cabos' world-famous deep-sea sport fishing scene first-hand. Global tournaments are held every year, so stay tuned for the next big event near your community.

While most folks come here to party, you have various other ways to relax in peace

Cabo San Lucas is renowned for its world-class tourist destinations and dynamic resort lifestyle. Its selection of bars and restaurants explode with vigor after every sunset, shaping one of the most legendary nightlife scenes you can find anywhere in the world.

If you prefer a more laid-back way to unwind and decompress, head to the more tranquil San Jose del Cabo, where art and generations-old local tradition are the main attractions.

Being a resort destination, Los Cabos also has an abundance of luxurious hotels. With their luxe amenities and top-grade services, these accommodations can be your ideal staycation destinations—perfect for when you want to relax beyond the confines of your own home.

It's perfectly okay to be a tourist in your own hometown

One of the main attractions in Los Cabos is known as the "Tourist Corridor." This 20-mile stretch between Cabo San Lucas and San Jose del Cabo is where you can find the best beaches, the most luxurious resorts, and world-class golf courses in Los Cabos. Each visit promises an unforgettable experience, so you're never short of opportunities to explore and discover hidden treasures in and around your hometown.

Your next shopping spree is right around the corner

There truly is something for everyone in Los Cabos. And there's no other way to experience this than by immersing yourself in the area's jaw-dropping shopping centers. You can find everything from decidedly tacky souvenirs to opulent fine diamond and exquisitely hand-crafted art pieces in the various shopping centers and boutique stores that are spread out across these coastal communities.

If you can't decide where to begin your spending spree, check out our preview of eight of the best shopping hot spots in Los Cabos.

Make friends along the way

One of the best things about Los Cabos is that it's a melting pot of cultures and experiences. Always keep up a friendly and approachable disposition and you'll make friends with different types of people with all sorts of stories to tell. From fellow expatriates and transplants from all over the world with similar or relatable experiences, to local residents who can offer the best knowledge and advice about your new home, every encounter in Los Cabos is an enriching one.

Consider buying an investment property

In many ways, living in Los Cabos is as close as you can get to living in paradise. But have you considered sweetening the pot even more with a lucrative investment opportunity in local real estate?

With the Baja California Peninsula's enduring tourist appeal, an investment in a vacation rental can go a long way to help you and your family keep earning—even while you're already enjoying the perks of living in a resort town.
Discover the best of the Los Cabos lifestyle with Ian Gengos
The Los Cabos lifestyle has many colors, dimensions, and flavors just waiting to be discovered. Want to learn more? Click here to read more excellent local guides.
For more information about the incredible real estate opportunities that you can find in Los Cabos, get in touch with me, Ian Gengos. Call +52.624.157.6323 or send your inquiries via email at iangengosrealty(at)gmail(dotted)com.